MEAN Stack Development Company
As a MEAN Stack Development Company, we are well-skilled and knowledgeable in the MEAN JavaScript bundle – MongoDB, ExpressJS, AngularJS, and NodeJS and have successfully implemented varied projects using this family. We offer comprehensive MEAN stack development services that make the most of this innovative technology and assist clients to empower their businesses with data-critical and real-time applications.

The four Fundamental Technologies That Comprise MEAN
MEAN is an open-source JavaScript software stack that is ideal for developing dynamic websites and applications starting from the top (code running in the browser) to the bottom (database).
Mongo DB
NoSQL database system that uses JSON data to make communication between client and server easier.
Express JS
Back-end web application framework to develop single-page or multi-page web applications in Node.js.
Angular
Front-end web app framework that runs your JavaScript code in the user's browser; enabling UI to be dynamic.
Node.JS
It is an open-source, cross-platform java-script run-time environment that executes java-script code server-side.
Partner with us to build software based on MEAN Stack Technology
We have demonstrable proficiency in creating and implementing MEAN Stack development services in a diversity of industries like Shipping & Logistics, energy & utilities, real estate, Retail & FMCG, to name a few. Our competent services offer a complete solution that includes a well-laid-out project management procedure along with skillful resources to unleash its potential.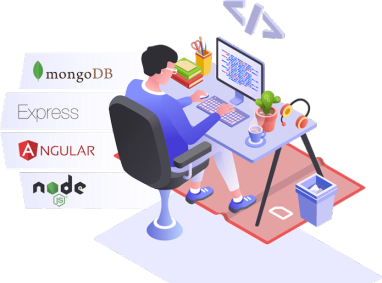 Why MEAN Stack Development is an Ideal Choice for Web Applications
---
Web app development has been a fast-moving arena, with its implementation and usage increasing by leaps and bounds. Today's web apps need to be dynamic, flexible, user friendly and with a highly competent design and navigation. Web developers have a lot of choices to decide from. While selecting the apt framework for the solution, it is essential to select a software technology that brings in the best of everything – flexibility, support, security, testability, reusability and fast implementation.
Budget Friendly in Nature
One of the major reasons why MEAN stack development is a cut above other technology frameworks is owing to its economical friendliness. For the customers as well as the developers, it is a full stack development due to which there is a large control over unnecessary extra expenditure over resources.
Full JavaScript Framework
Since it is an entirely JavaScript framework, it has its own set of benefits to offer in terms of finest of user experience and data management. It supports Linux as well as Windows OS. There is a swift process of data recovery owing to the power and reliability of the framework. Occurrences of increased traffic is surely witnessed since both NodeJS and AngularJS offer a better environment to build competent web apps.
Accessibility to JSON All Over
Because JSON is available everywhere – be it AngularJS, NodeJS, MongoDB or ExpressJS, it becomes highly beneficial to have a seamless spread of data within layers. The best part is not to be writing the code again. Data can effortlessly flow amongst the layers and need not be reformatted or rewritten. MEAN makes use of a common JSON format everywhere for data. Even functioning with APIs becomes increasingly simpler.
Increased Scalability Makes It Popular
Since all four components of MEAN are open source, free and scalable, it becomes a business's favorite. The occurrence of various frameworks, libraries, reusable modules offers a significant role in speeding the development time to a large extent. With a fast time-to-market, it offers speedy development time, making it a developer's favorite too.
Reusability and Correcting Getting Simpler
Because the entire development process talks a single language, it becomes easy for developers to track the entire development flow, watch the data exchange and find out the occurrence of errors/bugs with the help of certain free opensource tools and libraries that can be easily reprocessed for the frontend as well as the backend.
Reduced Development Expenses
All components of MEAN stack are open source and free for use. A very major feature of this innovative technology is that it does not incur extra and unnecessary expenses making it reachable to a large spread-out set of users. Its reusability and code sharing components help developers reach their objective within stipulated time and budget.
Hire MEAN Stack Developers
Our team of MEAN Stack developers, well-versed with Full Stack Java Script, are proficient at implementing finest of technical knowledge with a blend of known technologies.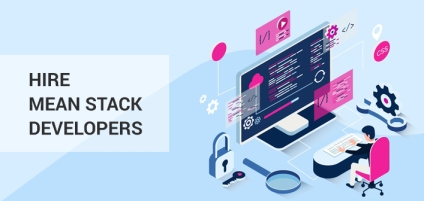 Other Related Services
Web Development Services
With over 30 years of expertise in full-cycle web development, D Support and Services LLC is your one-stop IT partner for all your digital transformation needs.
Mobile App Development Services
Mobile apps enable digital convergence and it has become more important than ever for businesses to deliver personalized experiences. We develop native, cross-platform, and hybrid mobile applications for a wide range of industries and businesses. Whether you are a startup, a growing business, or a large enterprise, our mobile app development services cover every mobile app development need.
Business Intelligence Services
Our customized BI solutions are aimed at offering better insights, increased visibility, improved customer experience and informed decisions.
Product Engineering Services
We empower businesses with our full-scale product engineering services covering various aspects of product development right from consulting to continuous improvement. Our product engineering services include architecture, design, development, testing, security, deployment, and product management. With diverse skillset and extensive know-how, our team of product development engineers continuously seeks innovative ways and fresh perspectives to deliver solutions across industry domains.
Enterprise Software Development
Our enterprise software development services have helped world-leading brands accelerate digital initiatives, maximize growth, and become more agile.
Dedicated Development Team
Hire dedicated development team from D Support and Services LLC that works as your in-house IT team to deliver high-quality, secure, scalable, and reliable software solutions.
One Technology That Fits All
We have well-thought-of processes, in place, to leverage the power of MEAN Stack development services and create feature-rich and robust applications, for a variety of industry domains.